Home

Bikes
Service
About Koga
E-Tour
Always comfortable on the road
Prices DKK 26719


Super smooth-welded aluminium frame; gives an elegant appearance without visible welds. The gears, braking and lighting cables are perfectly integrated so they are optimally protected against the different weather conditions. This additionally adds to the sleek appearance.
Luxurious KOGA Feather Shock front fork suspension and suspension seatpost for added comfort.
Silent ION motor in the rear wheel for powerful and flexible pedal assistance in all circumstances.
More benefits

Average radius
Average approx. min. 110 km - max. 185 km
Motor position
Engine in the rear wheel. The number of Nm indicates the torque of the engine.
Detacheable battery
Integrated in the bottom tube of the frame.
Media
E-Tour
City or countryside, short or long ride. With the comfortable E-Tour you'll arrive at your destination with ease.
Spotlight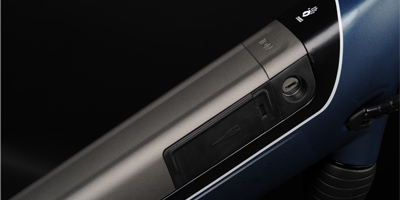 De accu is één van de belangrijkste onderdelen van de E-bike, omdat deze bepaalt welke afstand je met ondersteuning kunt afleggen.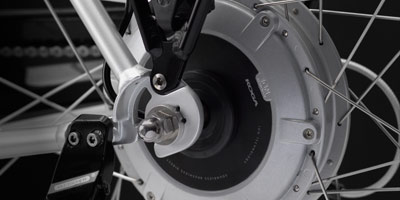 Onze E-bikes met ION-technologie zijn uitgerust met een geruisloze ION motor.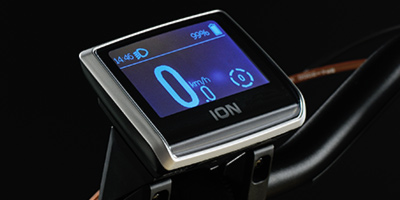 Alle ION fietsen zijn uitgerust met een V-ION display met heldere LED-verlichting.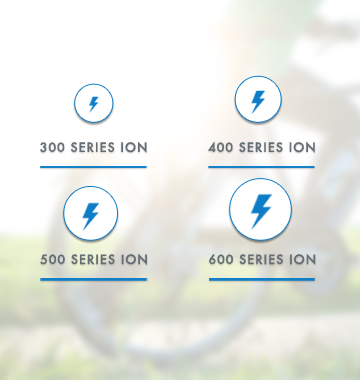 Accu
Capaciteit van de accu
De KOGA E-bikes met ION-technologie zijn voorzien van verschillende accu's met elk een andere capaciteit, variërend van 317 Wh tot 612 Wh. Het aantal Watt-uren (Wh) kan gezien worden als de tankinhoud van de fiets.
De KOGA E-Deluxe en de KOGA E-Xtension zijn verkrijgbaar met vier verschillende accupakketten met verschillende capaciteiten.
De KOGA E-Tour en de KOGA E-Special kunnen worden voorzien van drie verschillende accupakketten.

Over het algemeen kan gesteld worden: hoe hoger het aantal Watt-uren, hoe groter de actieradius.
De keuze is persoonlijk en wordt bepaald door onder meer uw oplaadmogelijkheden, de gewenste actieradius en persoonlijke voorkeuren. Vraag uw dealer om advies!
Recycling
Koga heeft tot doel haar producten zo verantwoord mogelijk te produceren. Maar ook na de productie voelen we ons verantwoordelijk voor onze producten. Neem onze accu's bijvoorbeeld. Om de inzameling te maximaliseren en de recycling van de accu's zo zorgvuldig mogelijk te laten verlopen, werkt Koga samen met de Stichting Batterijen (STIBAT). Samen met STIBAT zorgt Koga ervoor dat u uw oude fietsaccu gewoon bij de tweewielerspecialist kunt inleveren.

Omdat de kosten voor de recycling separaat worden geïnd, kan het zijn dat uw tweewielerspecialist een klein bedrag bij aanschaf van een nieuwe accu of elektrische fiets aan u doorberekent.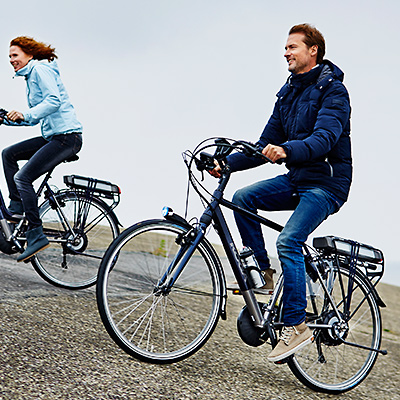 Geruisloze ION motor
Onze E-bikes met ION-technologie zijn uitgerust met een borstelloze ION motor. Door het ontbreken van borstels of tandwielen, is de motor onderhoudsarm en geruisloos.

Plaats van de motor
De ION motor is geïntegreerd in het achterwiel van de E-bike. De plaatsing in het achterwiel geeft je tijdens het fietsen het gevoel dat je een duwtje in de rug krijgt.

Koppel van de motor
Het koppel van de motor wordt aangegeven in newtonmeters (Nm). Hoe meer newtonmeter (Nm), hoe krachtiger de ondersteuning. De KOGA ION-fietsen zijn uitgerust met een motor met 40 Nm met uitzondering van de E-Special (50 Nm).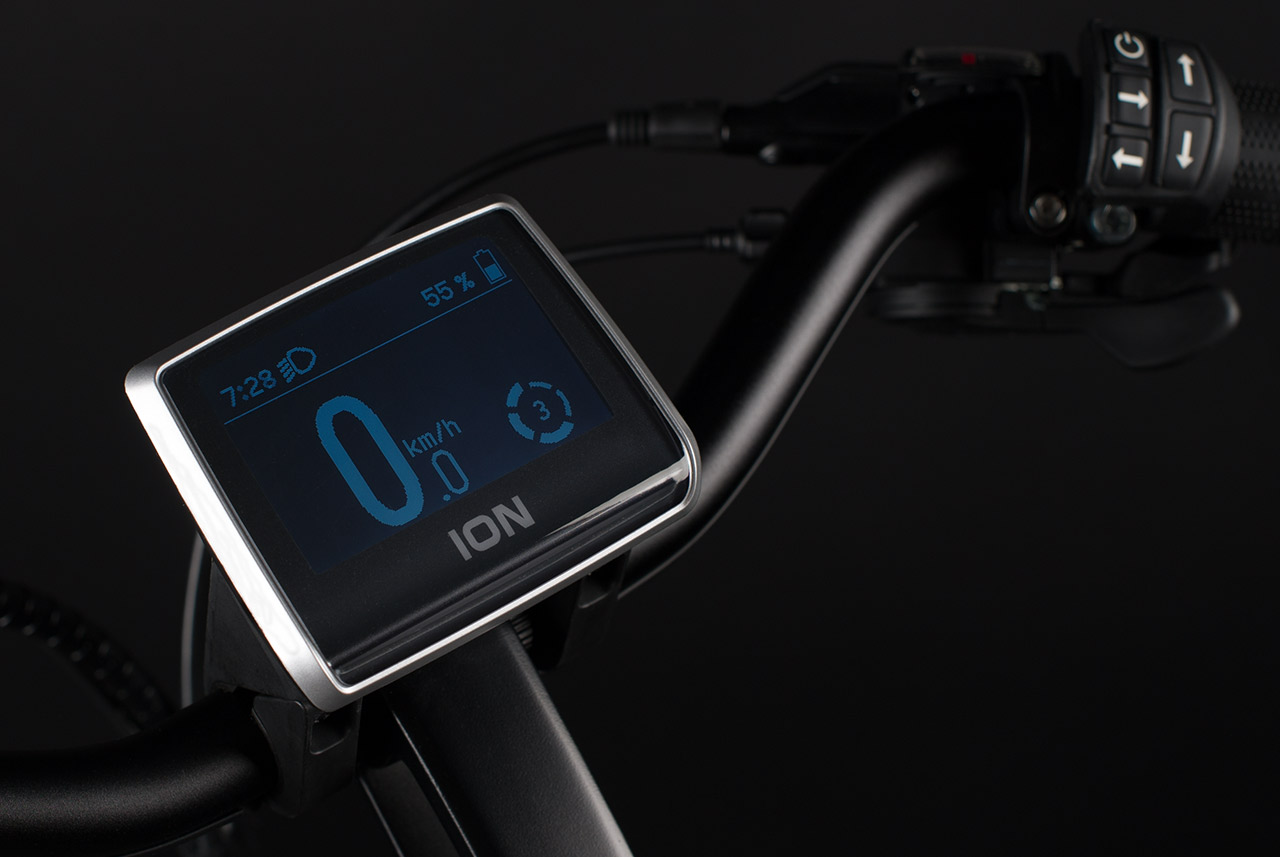 HD Display
Alle ION fietsen zijn uitgerust met een V-ION display met heldere LED-verlichting waarop relevante informatie nauwkeurig is af te lezen.
Startonderbreker
De afneembare display fungeert bovendien als startonderbreker en is daarmee een uitstekende diefstalpreventie.
Lees meer over de slimme ION functies.
Benefits
The battery is fully integrated into the down tube of the frame making the bike unrecognizable as an E-Bike and providing perfect weight distribution. The battery is easily removable, allowing you to easily recharge. You can choose the battery type that best suits your needs.
Robust and user-friendly, the V-ION display provides all the relevant information clearly. Additionally acts as starting immobilizer, providing excellent protection against theft.
Assembled with highly reliable Shimano Deore components.
Powerful and reliable Shimano Deore hydraulic disc brakes, for stable braking performance in all weather conditions.
Features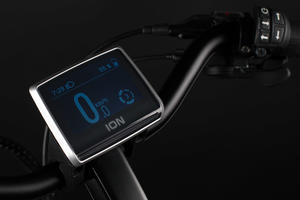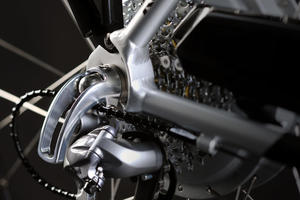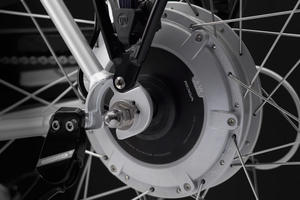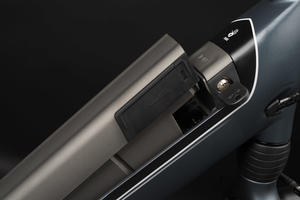 Easily removable & integrated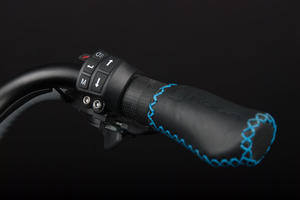 Controlunit next to to the handle grips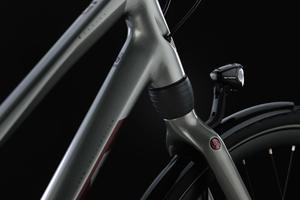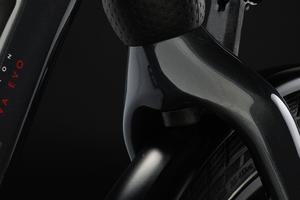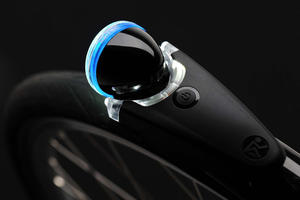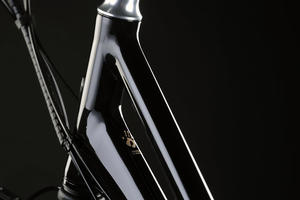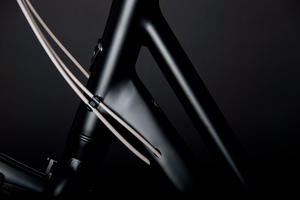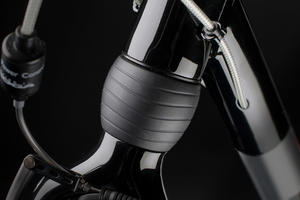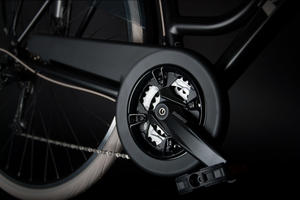 Suomi semi-closed chain guard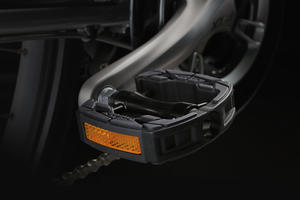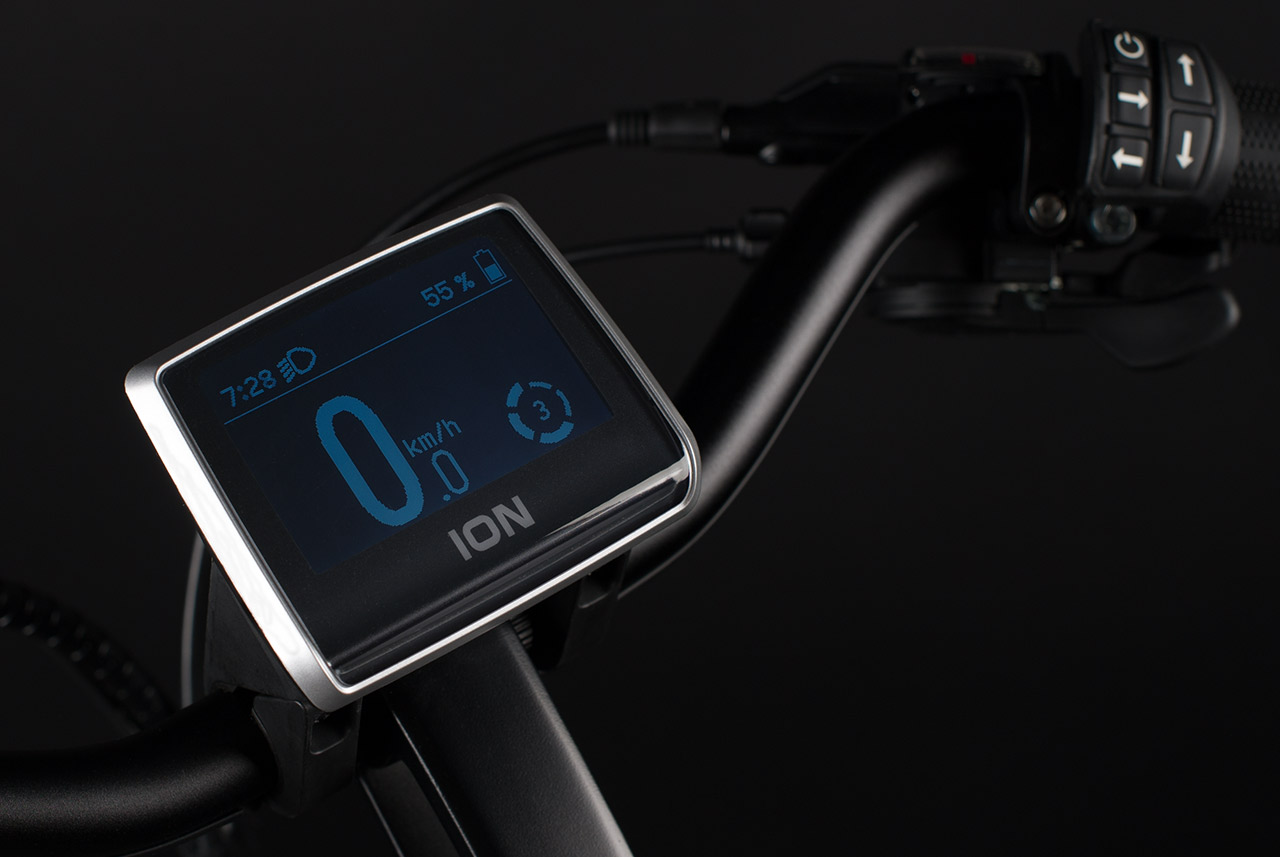 V-ION Display
The V-ION display is sturdy and easy to use, with a large high resolution screen to boot. The modern design fits seamlessly with the style of the ION batteries.

E-Guard
The KOGA E-Guard is a protector for the rear derailleur.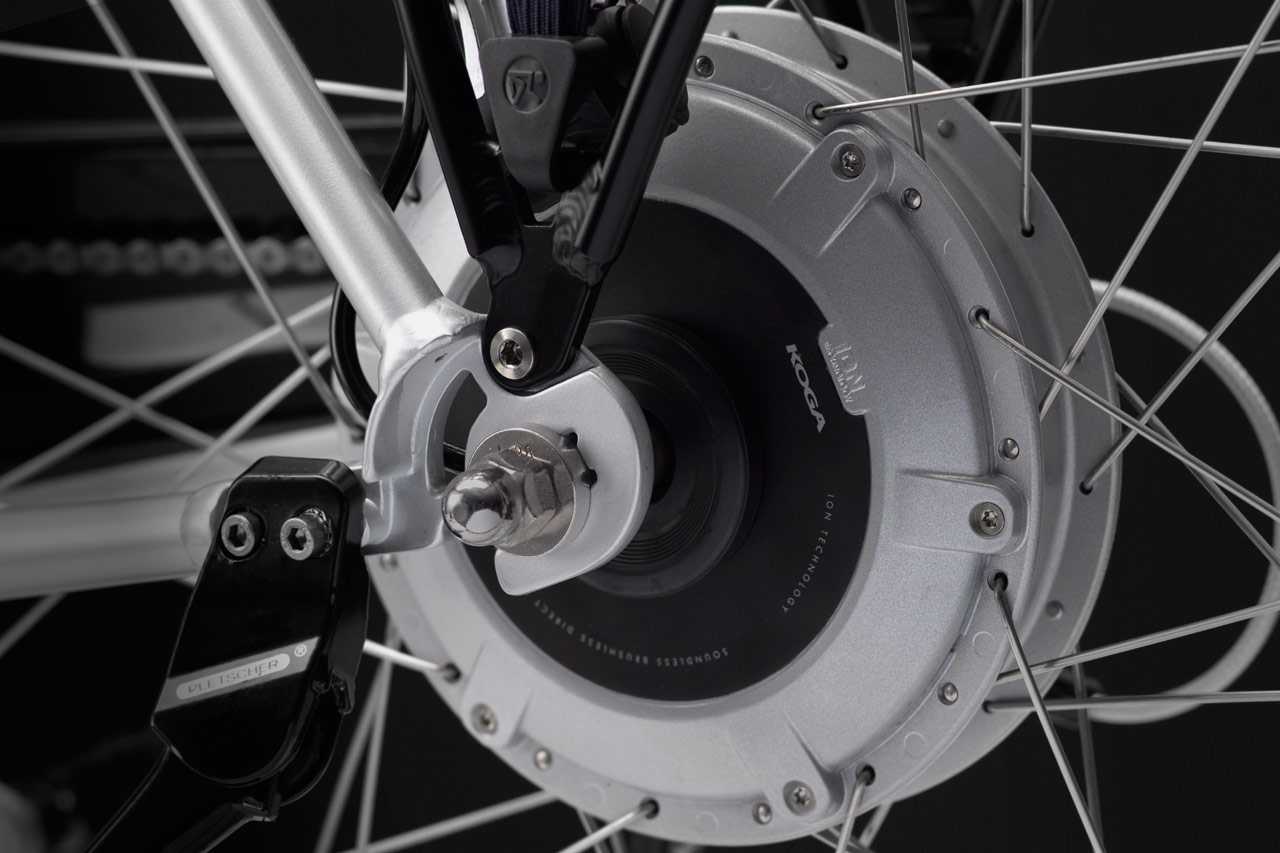 ION brushless motor
KOGA uses ION brushless motors for powerful, smooth and quiet pedal assistance for all circumstances. Developed in the Netherlands by bicycle technology and electronics specialists.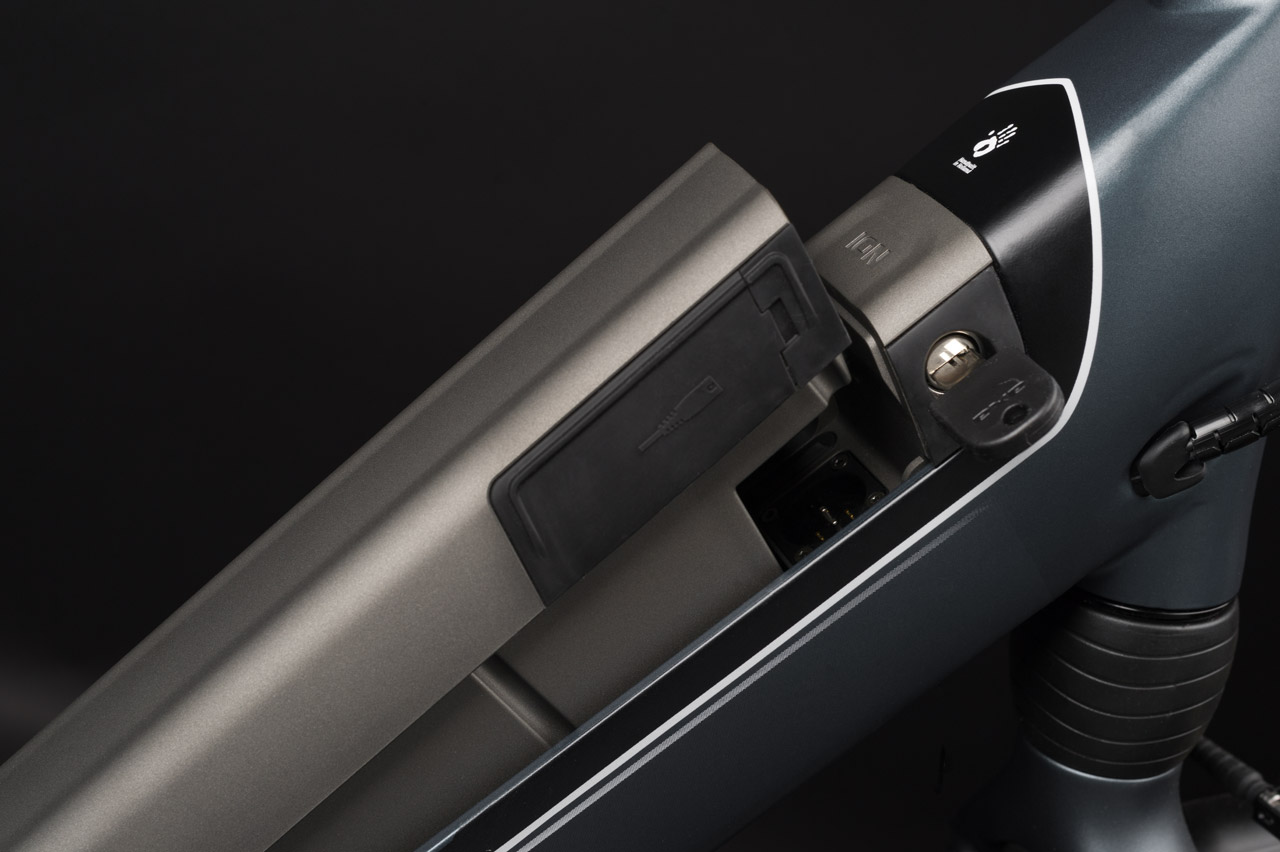 Easily removable & integrated
The compact ION battery is integrated invisibly into the lower tube of the frame and can be easily removed for charging whenever you need.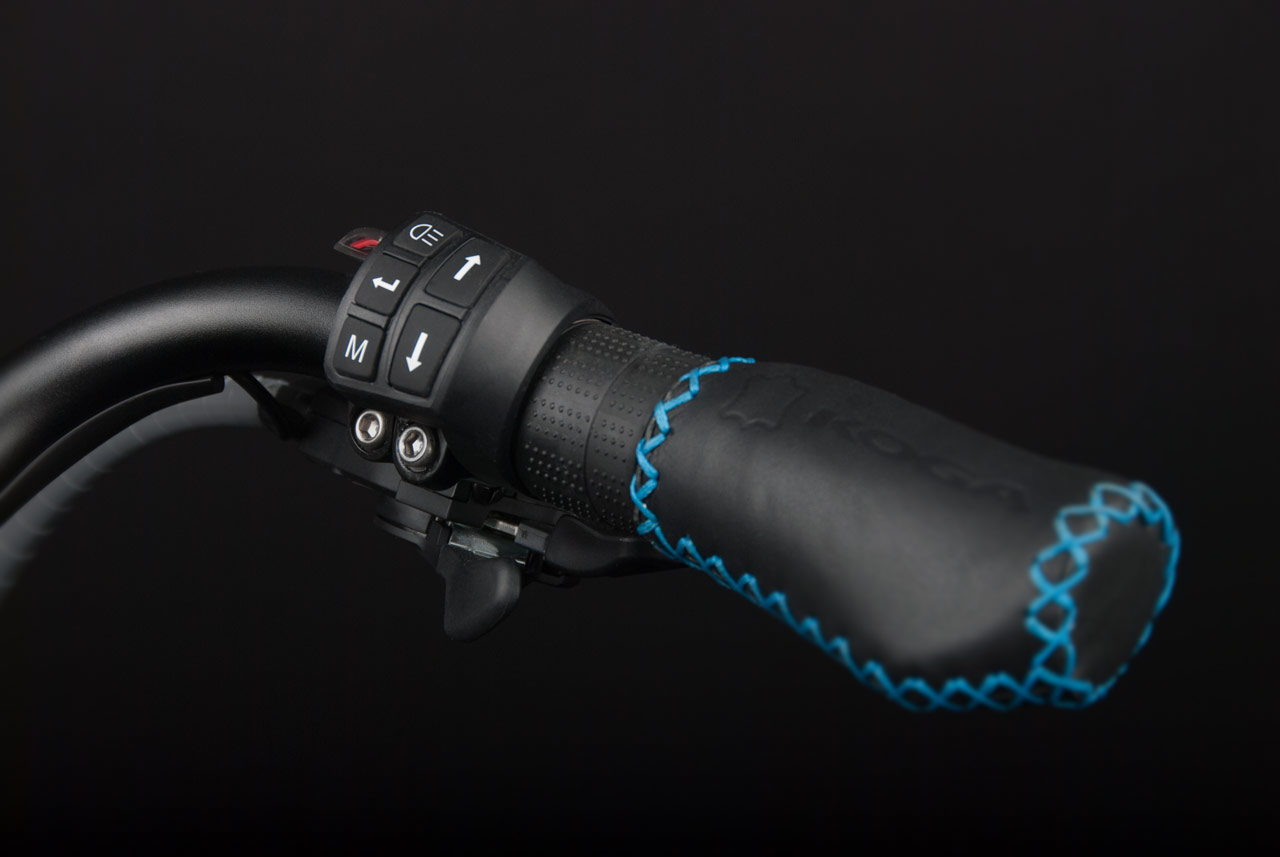 Controlunit next to to the handle grips
The control unit is placed right next to the handle grips so you can easily operate the E-Bike without taking your hand away from the handle bar.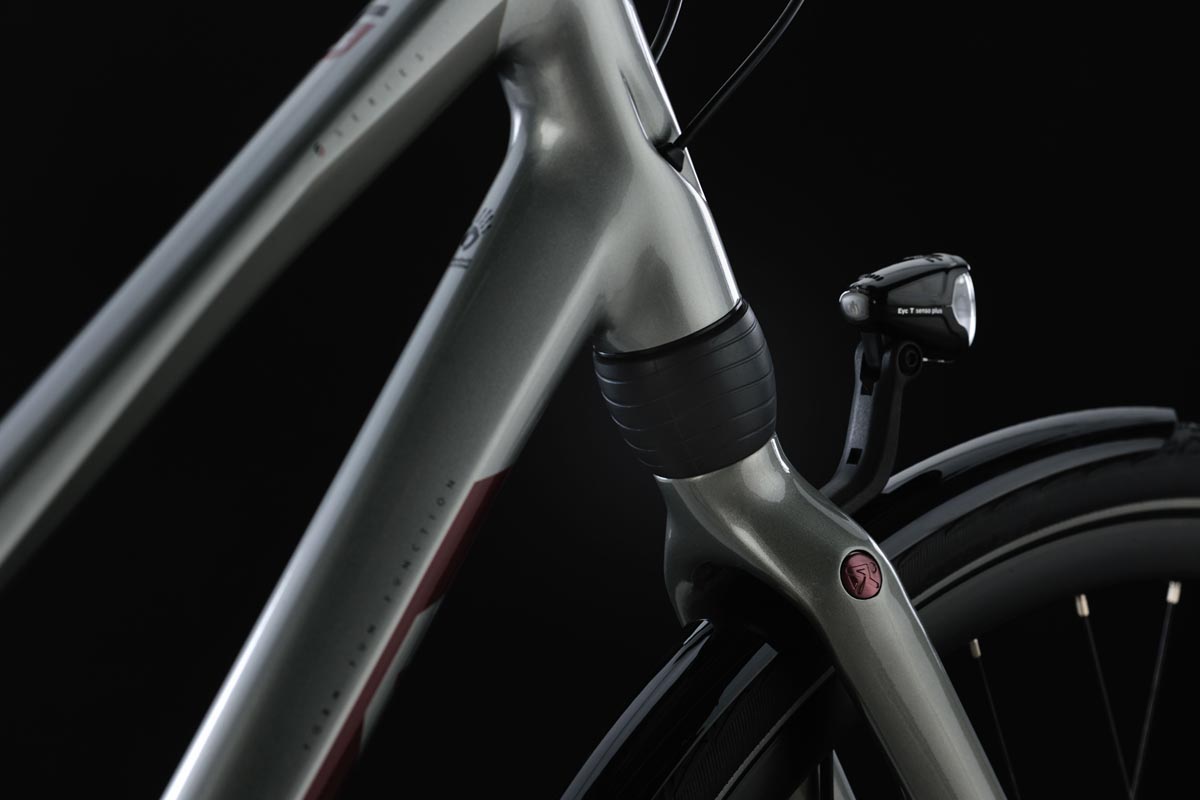 Crown Connect e-bike
KOGA Crown Connect technology, with the headlamp, mudguard, front fork and lighting cables perfectly integrated.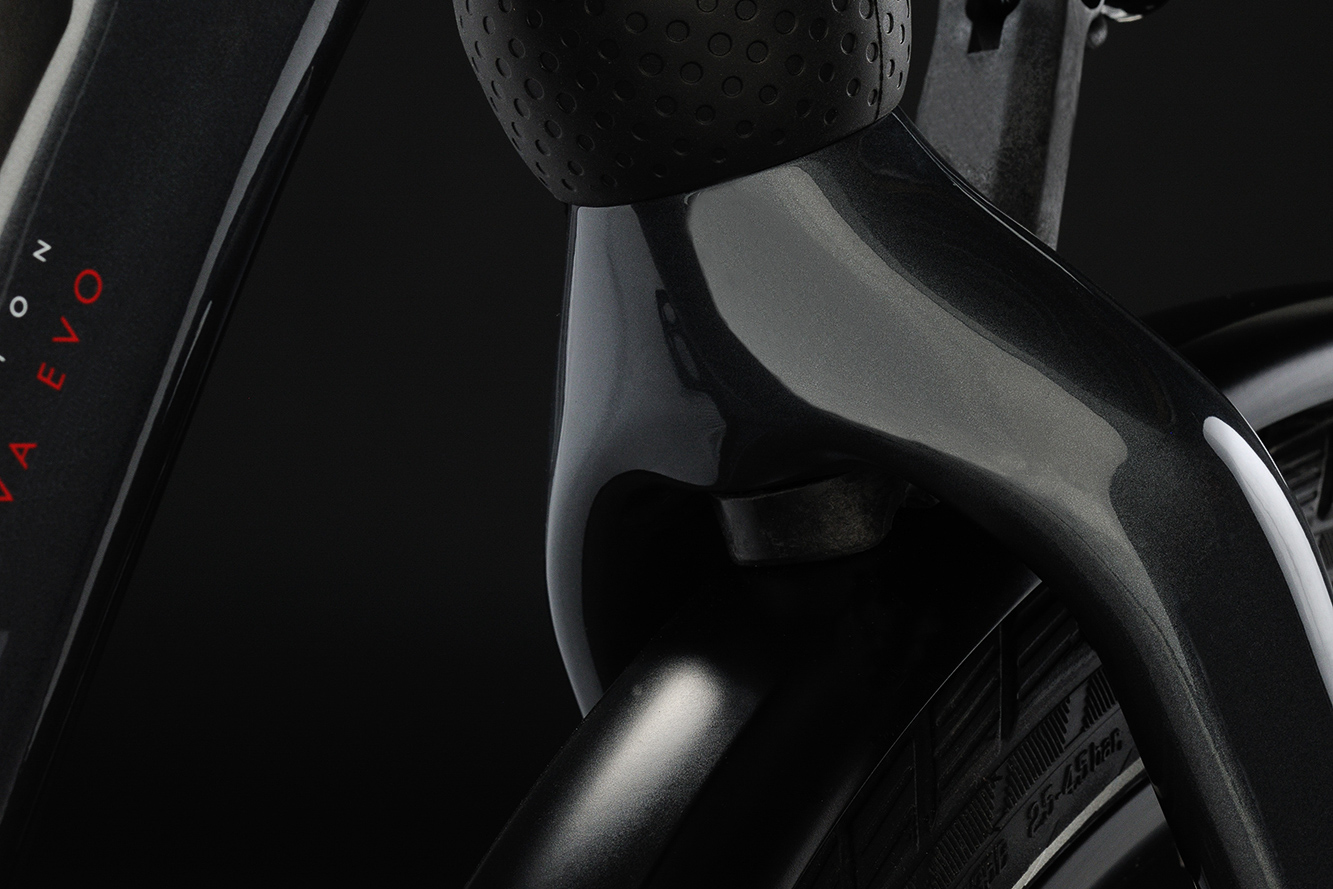 Crown connect E-bike
KOGA Crown Connect technology, perfectly integrating headlight, fender, front fork and lighting cables.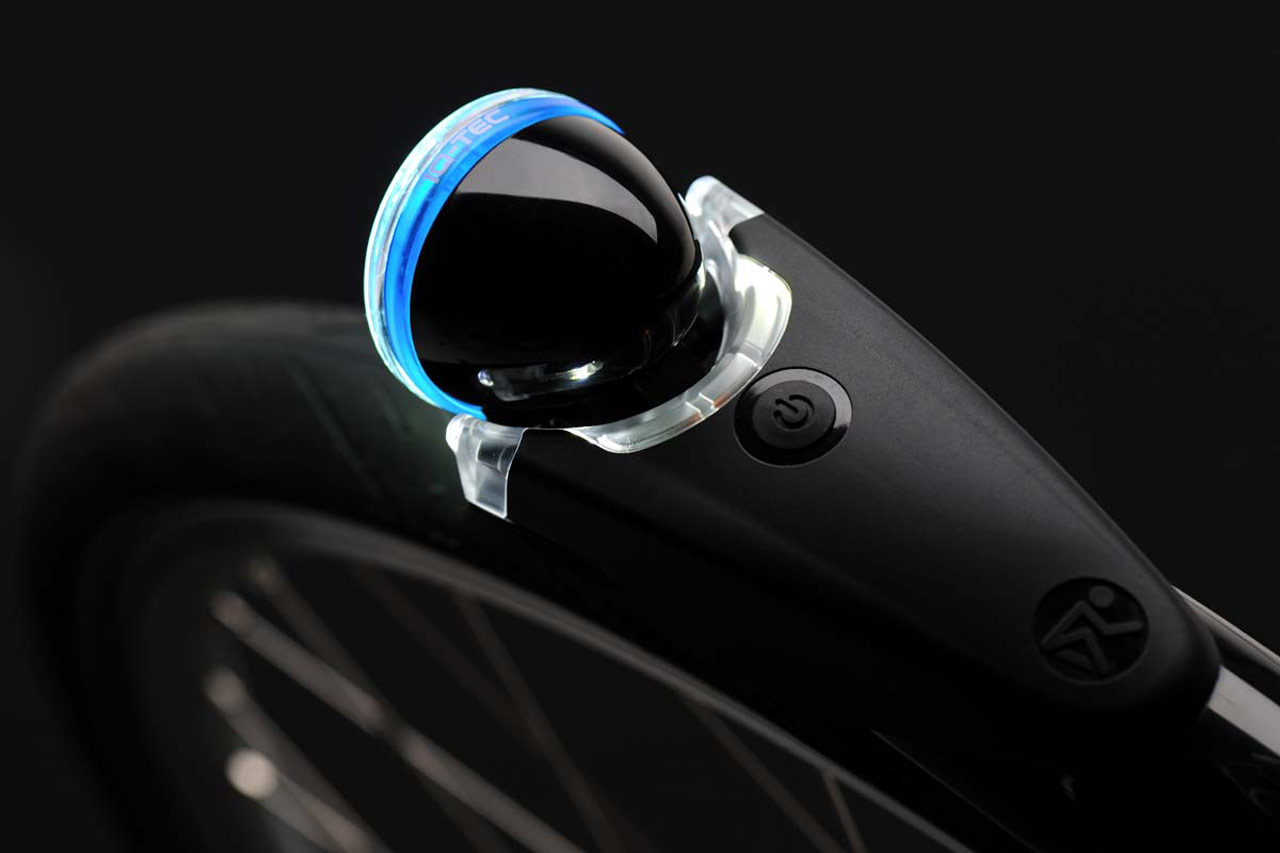 Rayo 2.0 technology
The Koga Rayo 2.0 technology consists of a fully integrated headlamp, mudguard and front fork. The hidden cable is guided through the front fork to the hub dynamo and is extremely well protected. The optimal integration of components in the Rayo 2.0 contributes positively to the design of the bike as a whole, where the lack of unsightly cables and fastenings creates a visually elegant bike with improved performance.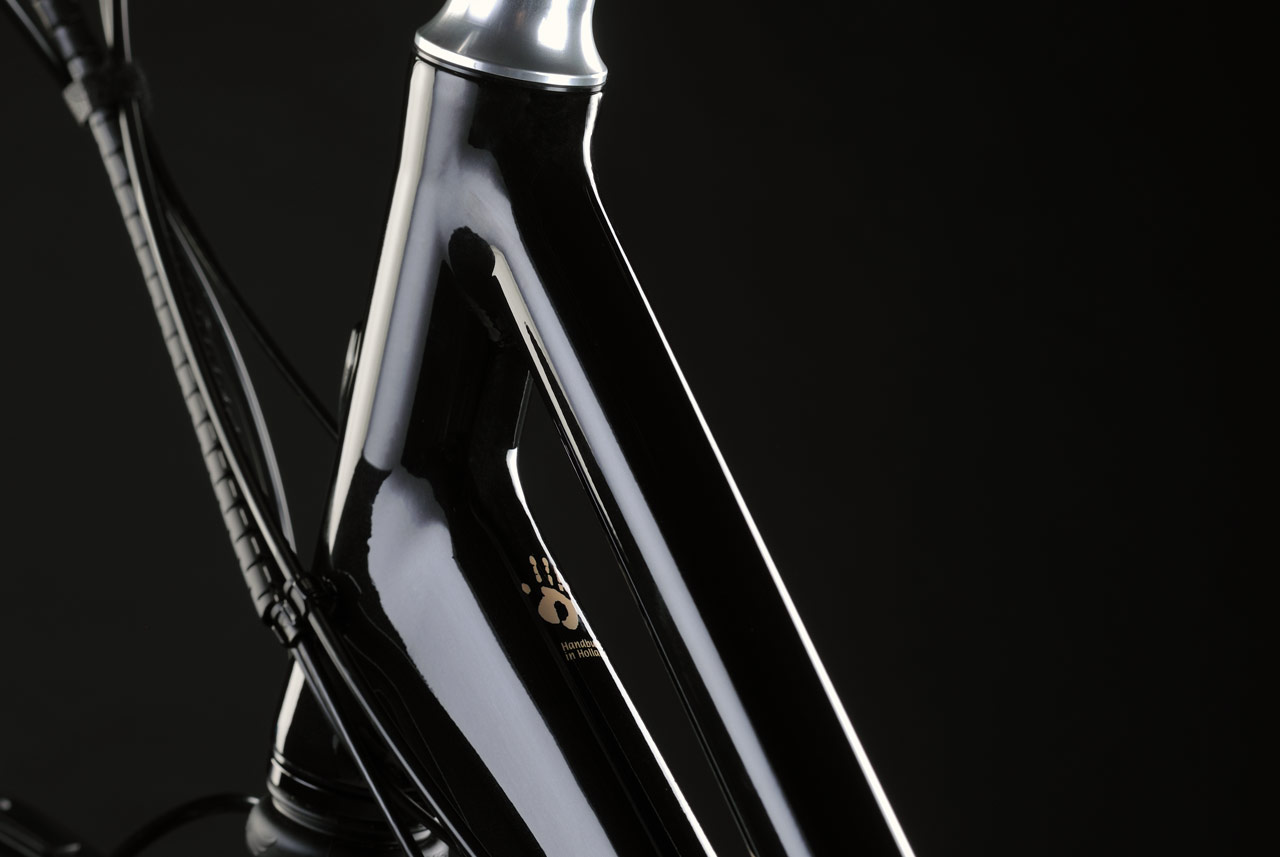 Smooth welding
Where possible, the welds of KOGA frames are perfectly levelled (smooth welding) so that a completely smooth surface is produced. This not only enhances the visual appeal but additionally reduces the risk of corrosion around the welds; an area which is traditionally susceptible to the formation of rust.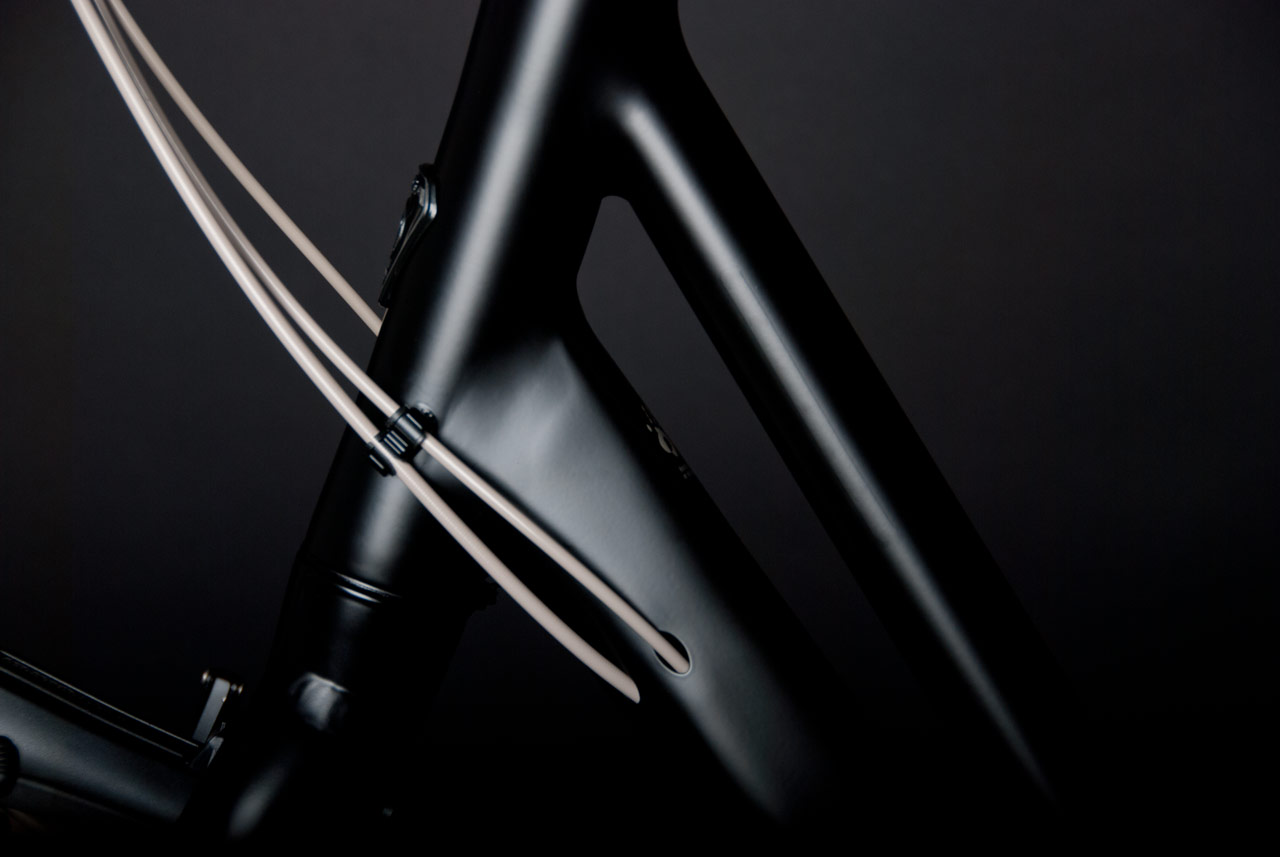 Cable integration
Beautiful and functional integration of the cables. As a result, the cables are better protected from the weather. Moreover, the bike is easier to keep clean and has an improved sleek appearance.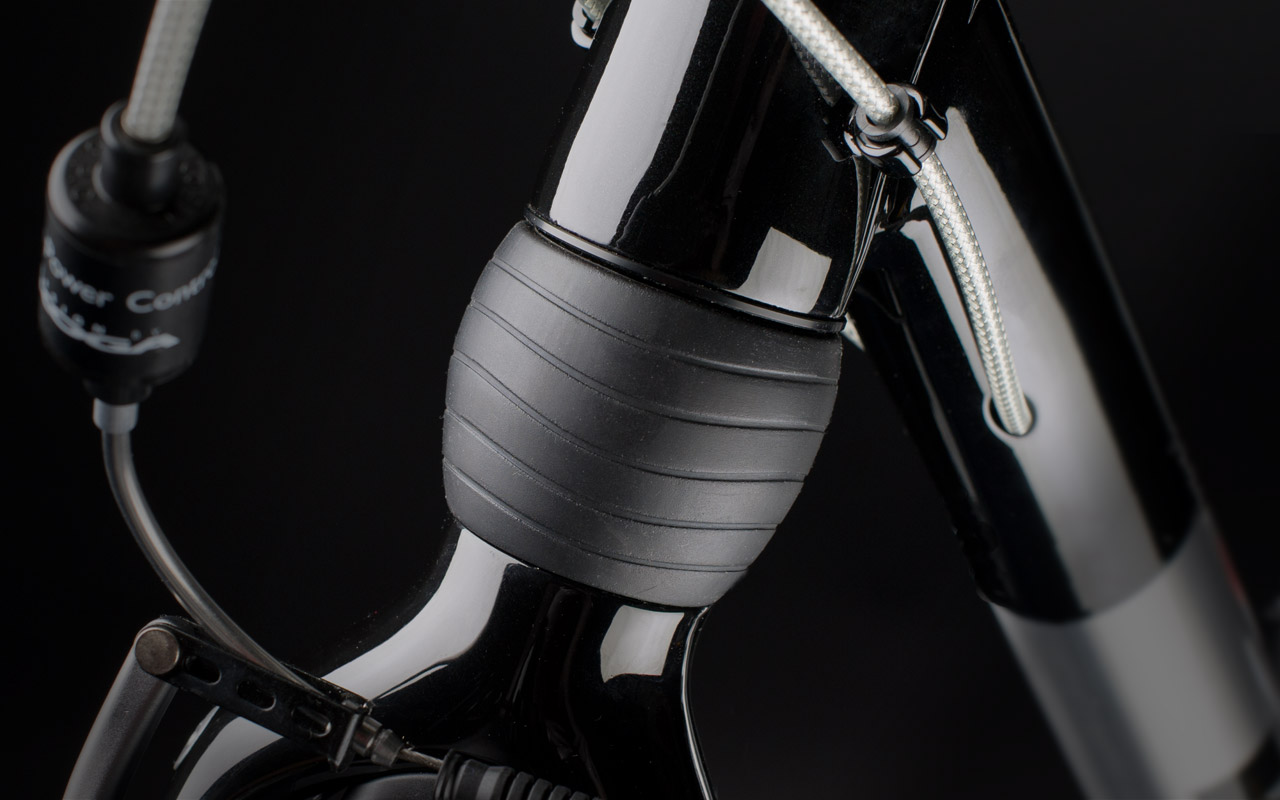 Koga Feathershock
The KOGA Feather Shock front fork suspension is a unique KOGA innovation specifically designed for avid touring cyclists. The Feather Shock is comfortable with a sporty look, but is also much lighter than a standard model suspension fork. This built-in suspension unit responds only when necessary. The fork provides additional comfort for wrists and shoulders without compromising the direct handling feel.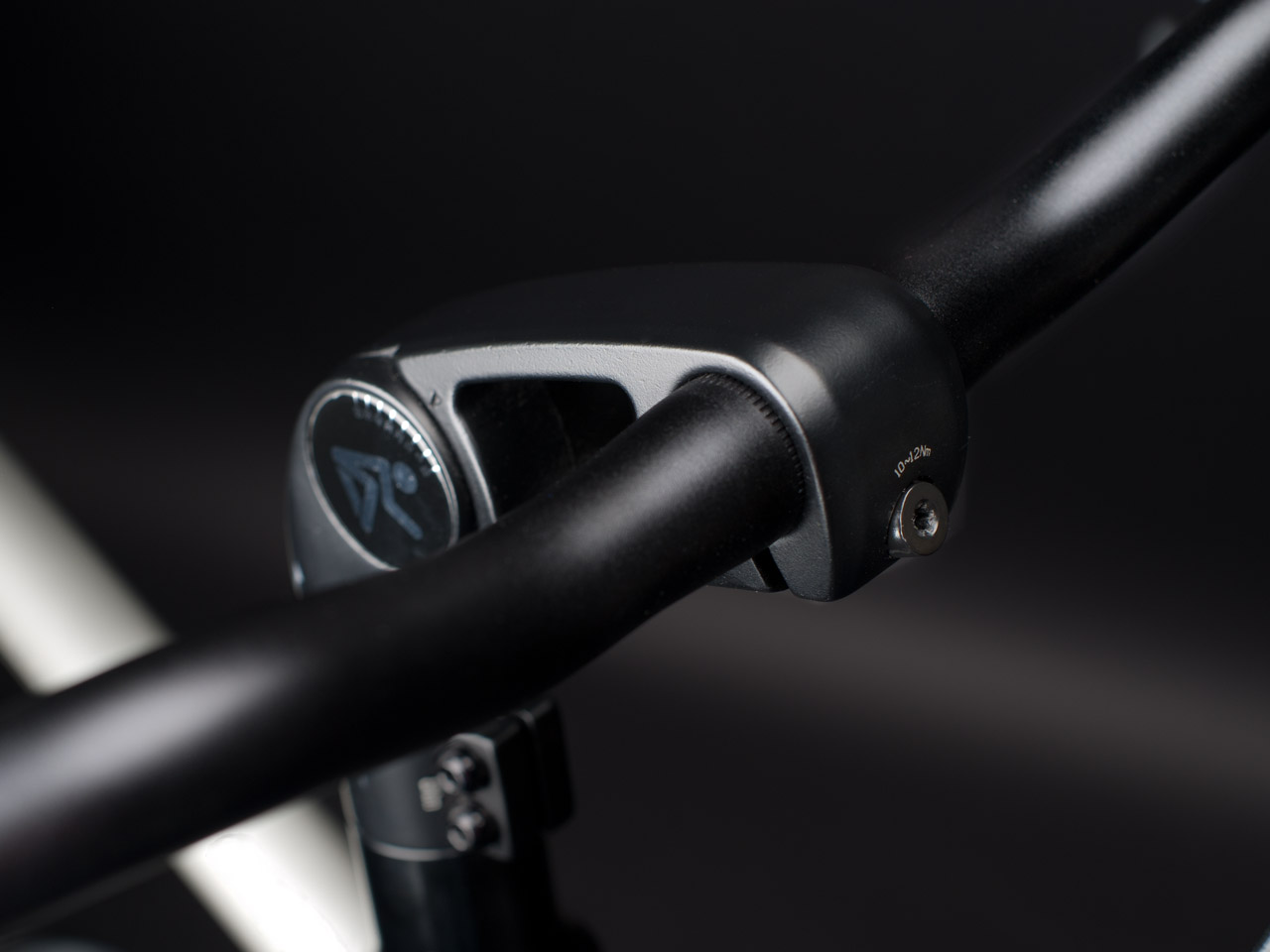 Justera lightweight stem
The KOGA Justera is a lightweight stem which is easily height adjustable through means of a single bolt. The corresponding spacer replaces the traditional rings, with the stem elegantly integrated with the frame.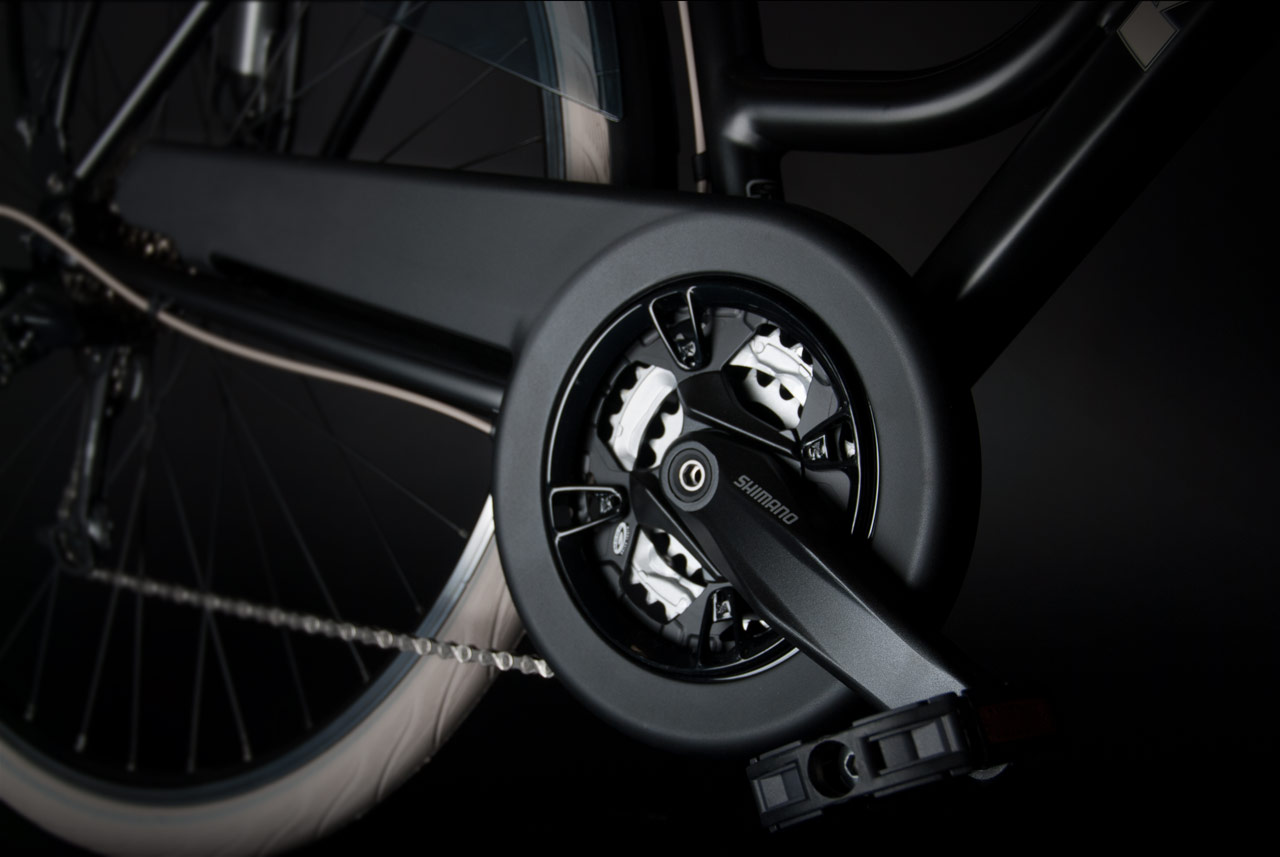 Suomi semi-closed chain guard
The KOGA Suomi is a unique in its kind semi-closed chain guard. On its rear side the KOGA Suomi is almost completely closed, preventing water from being splashed onto the crank and chain. The chain is carefully concealed at the front by means of a chain edge protection which in addition also lends a clean look.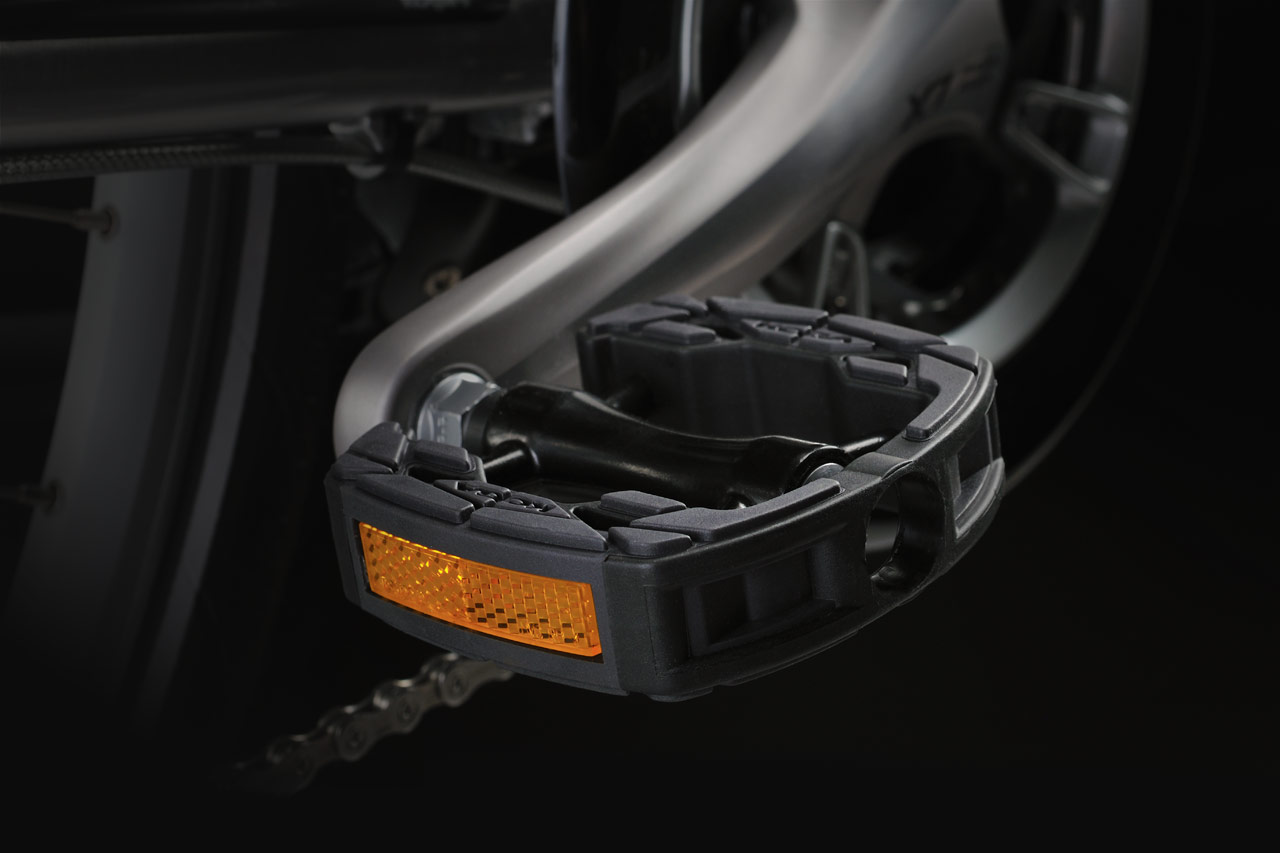 SoleMate pedal
KOGA's SoleMate pedal ensures that the ideal foot position is automatically adopted. The concave shape of the pedal encourages the pedalling with the ball of the foot rather than the instep. The pedalling is therefore made more efficient.
Specifications
Front fork sort
Suspension, KOGA Feathershock
Motor location
Rear wheel
Rear brake sort
Hydraulic disc brake
Front brake sort
Hydraulic disc brake
Front brake type
Deore LX
Tyre type
Puncture-proof tyres
Front light
B&M Lumotec EYC T Senso Plus