Home

Bikes
Service
About Koga
Try it for free - No strings attached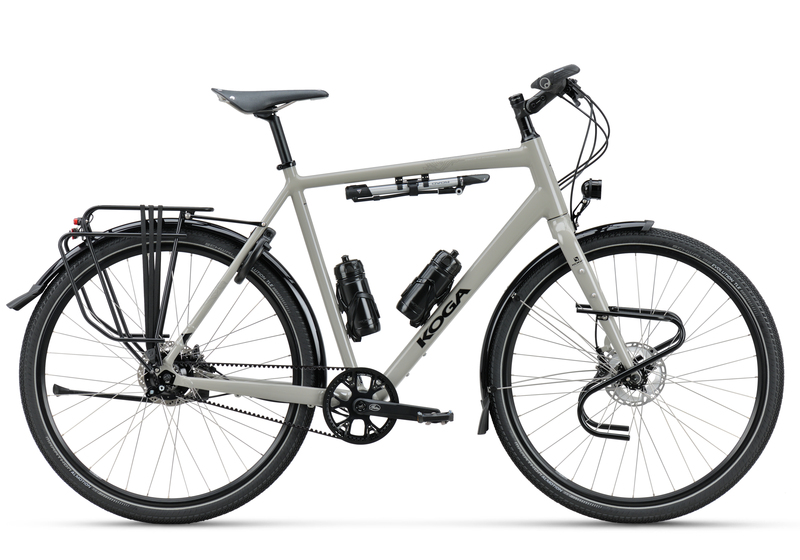 WORLDTRAVELLER-S
The WorldTraveller-S sets new standards for travel bikes. A bike that can be put together according to your own wishes, so that you can travel all over the world without any problems.
(Rated as one of the best trekking bikes by Alee Denham)
Aluminium 6061 frame with Smooth Welded Triple Butted tubes and internal cable routing. The divisible rear fork makes the bike suitable for the popular Gates belt drive.
Aluminium fixed front fork with integrated steering angle limiter (to protect frame, cables and headlight) and lowrider attachment points.
Eccentric bottom bracket for easy belt or chain tensioning.
With the renowned and low-maintenance Rohloff gear hub you have 14 well-diversified and usable gears with a range of up to 526%.
The WorldTraveller-S frame is exclusively suitable for disc brakes so that in all circumstances there is always sufficient braking power available.
In addition to the regular 28" wheels, the WTS can also be configured with 27.5 wheels and 62mm wide tires for extra stability and comfort.
Depending on requirements, preferences or budget, an extensive range of spare parts can be used to complete the assembly.
The bike can be configured with both a mixed and a men's frame in each of 5 frame heights.
Available in 10 standard colours, and at extra cost in the colour of your choice (Custom Color).
A complete custom-built WorldTraveller-S is available from €3130,-.
FAQ
How can I order a KOGA Signature bike?
You can create a Koga Signature bike yourself easily online through this website or by using the KOGA Signature column at your dealer. After a non binding reservation, the specification will be checked by the dealer and with your final approval entered into production. The bike is then completely hand built by one of our skilled technicians in Heerenveen. Your bike will then be delivered to your chosen dealer.