Home

Bikes
Support
Discover KOGA
At KOGA, quality and durability are paramount. Naturally, we offer a warranty on our bikes. All our products carry at least a two-year warranty from the date of purchase from an authorised KOGA dealer. All aluminium KOGA frames and unsprung front forks also have a lifetime warranty against construction and/or material defects. For carbon frames, the warranty period is 10 years. Again, this is calculated from the date of purchase from an authorised KOGA sales outlet. Of course, it may happen that we no longer have the product to be replaced in our range. In that case, we will replace it with a comparable product from our range. For everything else, please refer to the general warranty conditions, which you will find at the bottom of this page. For an overview of the applicable warranty terms, please consult this document (pdf).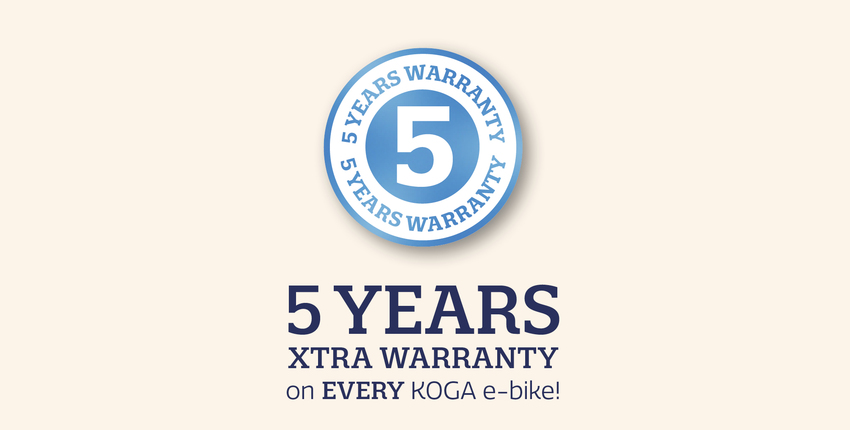 5-years XTRA warranty on E-bikes
Do you want a care free ride on your KOGA E-bike? Purchase a KOGA E-bike now and secure yourself a 5-year full warranty on your new E-bike.
If a part of your E-bike unexpectedly breaks down due to a material or construction fault, your E-bike will be repaired free of charge. A defect in the battery, motor or display is also covered by the 5-year XTRA warranty.
The warranty on your KOGA
Warranty conditions
This document sets out the KOGA warranty conditions for you. These are referred to as "the warranty conditions". The warrantor, KOGA, is part of Accell Nederland B.V. and is officially located at Industrieweg 4, in (8444 AR) Heerenveen. Our Chamber of Commerce number is 01054298 and the VAT number is NL008084531B01.
As the owner of a KOGA bicycle or bicycle part, you are entitled to a statutory warranty (non-conformity). You can assert that right against the vendor, the official KOGA dealer. A statutory warranty means that a product is or must do what you can reasonably expect of it.
In addition, KOGA, as the manufacturer, also provides its own warranty on its bicycles. This additional warranty is called the "manufacturer's warranty". You can turn to the official KOGA dealer for this warranty too. This manufacturer's warranty does not detract from the statutory warranty. This additional KOGA manufacturer's warranty commences on the day of delivery of your bicycle according to the purchase invoice.
1.0 Conditions of the KOGA manufacturer's warranty
For new KOGA bicycles and bicycle parts, you are entitled to our manufacturer's warranty within the European Economic Area (EEA), Switzerland and the United Kingdom (UK) in accordance with the following warranty conditions.
The manufacturer's warranty means that KOGA warrants that the KOGA bicycles and bicycle parts it has placed on the market will be free from defects in construction, materials and/or paintwork for a certain period of time. By our lifetime manufacturer's warranty we mean the lifetime of the frame, i.e. 25 years on aluminium frames and 10 years on carbon frames. Your manufacturer's warranty commences on the day of sale and delivery of your bicycle to you according to the purchase invoice. The period of validity of the manufacturer's warranty varies by part:
Frame: 25 years
Carbon frame: 10 years
Rigid fork: 10 years
Suspension fork: 2 years
Frame and fork paintwork: 5 years
Other painted and chrome parts: 2 years
All other parts: 2 years
Electrical parts of KOGA bicycles, such as the battery packs of KOGA electric bicycles, come with a 2-year warranty. During this period, the battery's power will naturally decrease. The rate at which the power drops depends on the use and age of the battery. The manufacturer's warranty only applies to an unusual reduction in the battery's power. Please note that when the battery reaches the end of its life it must be returned to your KOGA dealer, who will ensure that it is recycled.
2.0 Parts warranty
What if you have a problem with your KOGA bicycle or any part of it during the warranty period, as described in section 1.0? Then you can ask KOGA (through the official KOGA dealer) to determine whether there is a defect in the materials, paintwork and/or construction. If that is the case, KOGA, in consultation with the dealer, will decide whether to repair or replace the part or to refund you. For parts that are replaced during the warranty period, the remaining term of the warranty will apply to that part of your bicycle; the warranty period will not begin afresh.
A part can be repaired or replaced with a new part, at the discretion of KOGA. KOGA cannot warrant that frame types or colours will remain available. If the original part is no longer available, KOGA may supply an equivalent alternative part. The cost of transport to and from KOGA may also be charged to you.
If the frame on your KOGA needs to be replaced under the warranty, the original frame may no longer be available. In that case, you will receive a replacement frame, which may no longer be suitable for other accessories or parts that have been fitted to the frame. In that case, the KOGA dealer may fit other accessories or parts with a similar function that do go with the new frame and charge you for this. However, the dealer will only do so after receiving your prior consent. What if KOGA does not have any frame at all available? In that case, we can offer a commercial solution, to be determined at the time.
3.0 Warranty exclusions
You will not be entitled to a warranty in the following situations:
The bicycle was supplied new (to you or the previous owner) by someone who is not an official KOGA dealer.
Your bicycle has not been serviced regularly in accordance with the manufacturer's instructions.
Your handlebar, saddle, seatpost, derailleur set, quick-release mechanism of the derailleur set, brakes, quick-release mechanism of the wheels or tyres have been adjusted or tensioned incorrectly and this is not the fault of the official KOGA dealer.
Parts such as the brake and derailleur cables, brake pads, tyres, chain and sprockets have not been replaced at the right time.
There is typical wear to parts such as tyres, chain, chainrings, rear sprockets, lights, cables and brake pads, with no structural and/or material defects.
Work has been carried out on the bicycle by a non-specialist repairer, which means that KOGA can no longer determine how the defect or damage occurred.
Incorrect (technical) repairs have been carried out on your bicycle by a non-specialist repairer.
Following the delivery of your KOGA, other accessories or parts have been fitted incorrectly or the original parts no longer correspond to the original technical specification due to external interference, e.g. the motor has been souped up.
Your bicycle has been used improperly or carelessly or has been damaged by a traffic accident or fall or by some other external calamity.
Your KOGA has been used as a rental bicycle or in competitions and/or commercial activities that involve exceptional use of the bicycle.
The damage was caused by transport on a bicycle carrier or some other means of transport.
The paintwork has weathered normally due to weather conditions or rust has formed due to damage to the paintwork.
You cannot produce an official purchase receipt from an official KOGA dealer.
The maximum weight that (a part of) the bicycle can carry has been exceeded. The maximum permissible weight for a city/touring bicycle is 120 kg. An electric bicycle can carry up to 130 kg in weight.
The battery has been drained completely because it is too long since you last charged it or you have not charged it often enough.
The electric bicycle has been souped up. Souping up means that the electric bicycle's auxiliary motor has been modified to give the bicycle more power than is legally allowed or that the pedal support does not stop when the bicycle reaches a speed of more than 25 kmph or before that if the rider stops pedalling.
It goes without saying that KOGA only provides a warranty for a bicycle it has made and for its original parts. If you choose to replace original parts, such as the battery, with non-genuine parts, please note that the manufacturer's warranty from KOGA will not cover such parts. Please also note that if such parts have a negative impact on original parts fitted to your bicycle, you will also no longer be able to invoke the manufacturer's warranty from KOGA for such original parts.
For more information about the warranty and maintenance, please visit our website at www.KOGA.com.
4.0 Invoking the warranty
In the event of a defect or fault with your KOGA bicycle, or any part of it, you must always arrange for it to be inspected and repaired by an official KOGA dealer if you want this to be covered by the warranty. Take the original purchase receipt with you too.
Only the official KOGA dealer can submit the warranty claim to KOGA with the purchase receipt. The official KOGA dealer is also the first point of contact. An official KOGA dealer is trained in repairing and maintaining our products and has all the necessary tools, parts and software. The dealer also knows the guidelines for handling warranty claims.
As soon as a defect has been identified, you must stop using your KOGA bicycle and you must prevent the damage from getting worse. KOGA is not liable for the damage if it is caused or exacerbated by your own actions.
What if you have moved house, or your own KOGA dealer is no longer available? You can contact us to find a KOGA dealer nearby.
5.0 Liability of KOGA
The liability of KOGA and the KOGA dealer in relation to defective bicycles or bicycle parts is limited, in principle, to what results from these warranty conditions, unless and insofar as this limitation of liability is contrary to a mandatory legal provision (the aforementioned statutory warranty).
If application of the warranty conditions according to KOGA leads to an undesirable situation, we may offer you an alternative solution. This does not mean that other consumers are also entitled to that alternative in similar situations.
6.0 Amendment of the warranty conditions
KOGA may amend these warranty conditions from time to time. You can find the latest conditions of the KOGA warranty at www.koga.com/en/service/warranty