Home

Bikes
Support
Discover KOGA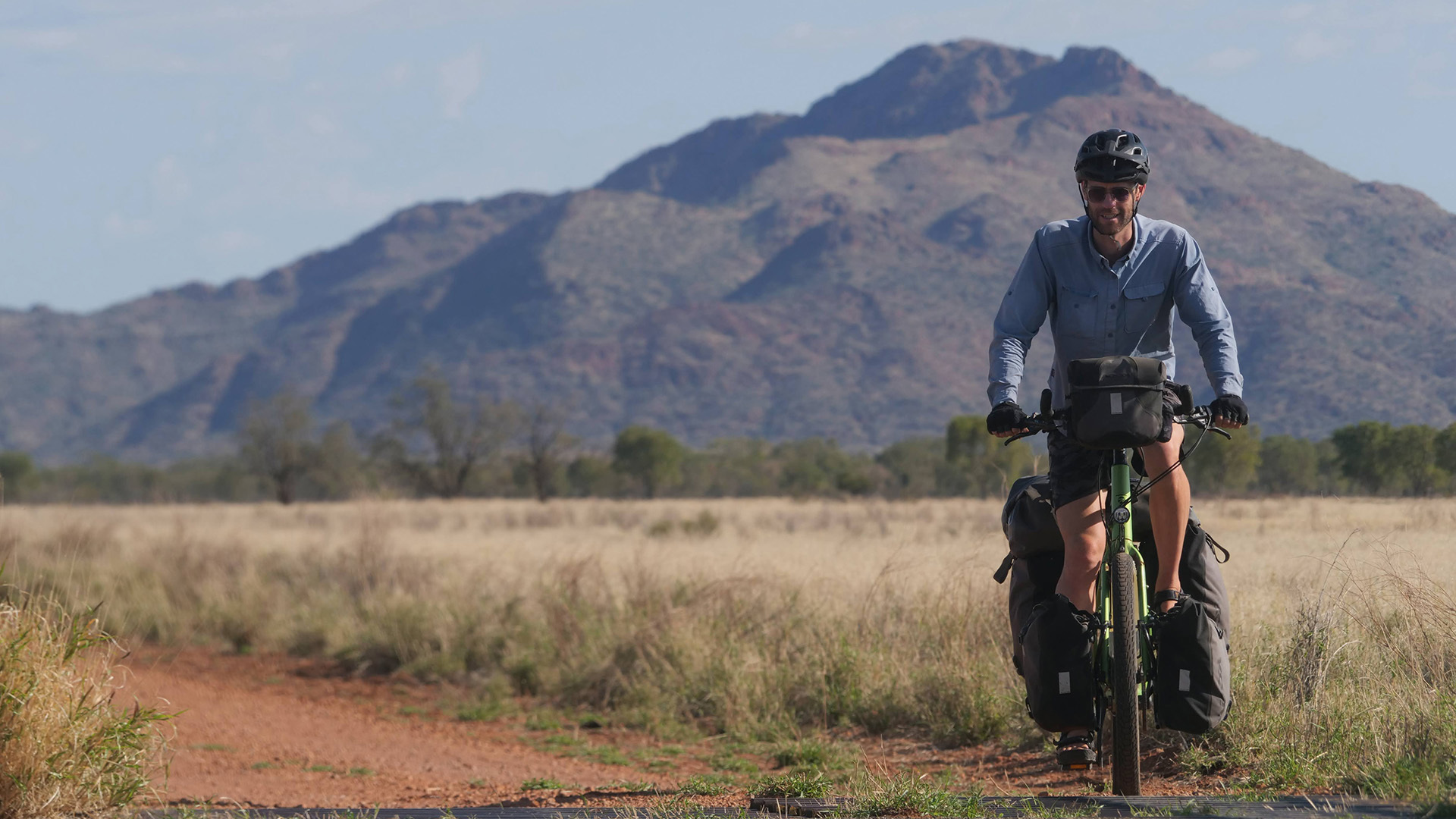 Alee Denham
Travelling the world on
the KOGA Worldtraveller-S
Bike travel ambassador Alee Denham
More about Alee Denham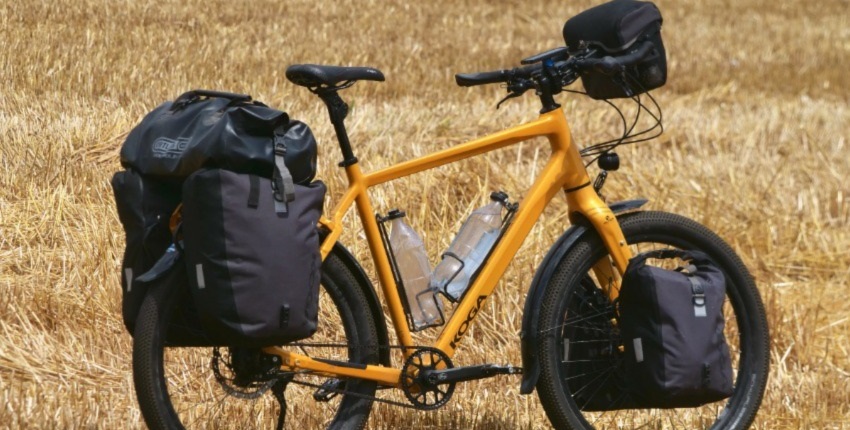 Alee Denham's KOGA Worldtraveller-S
Since the summer of 2023, Alee Denham has been riding a brand new KOGA WorldTraveller Signature, assembled entirely according to his own wishes.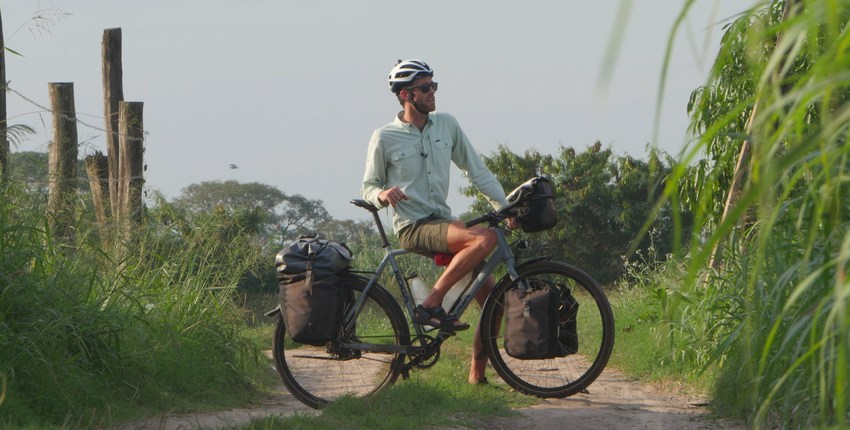 His name is Alee Denham, he's from Australia and in his 30's. He has over 70000 miles of cycling journeys under my belt across four continents. He likes to write, educate, film and share his knowledge about cycling travel.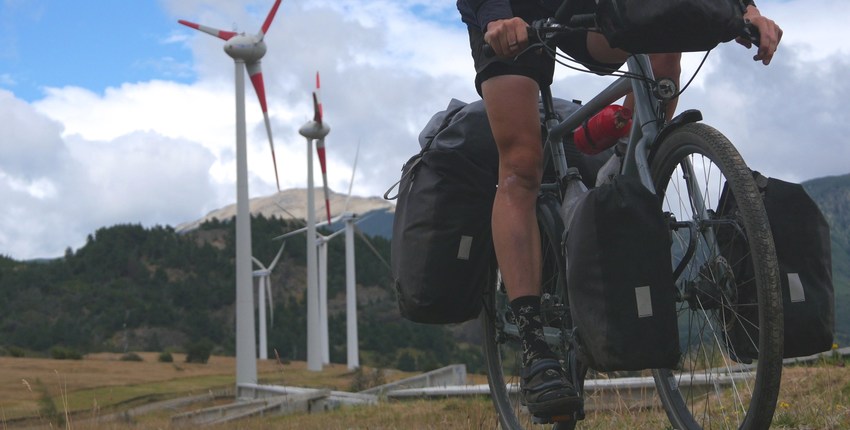 Cycling About is one of the largest cycling travel websites in the world. Cycling and traveling are arguably two of Alee Denham's greatest passions, and Alee Denham is thrilled to share experience.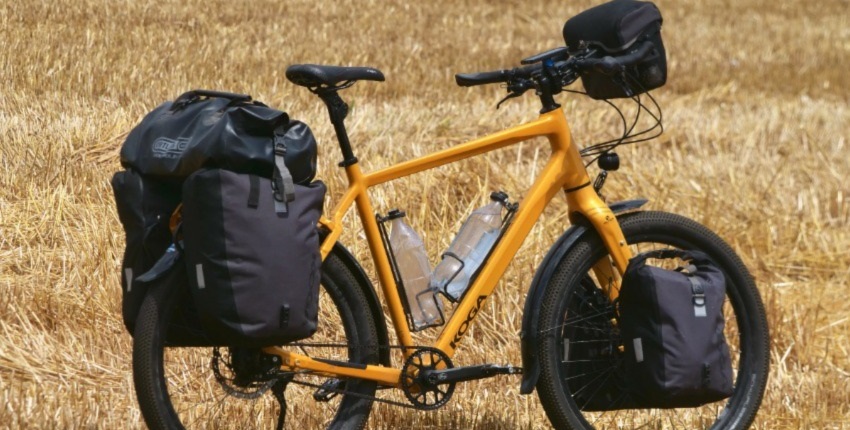 Alee Denham's travel bike
Since summer 2023, Alee Denham has been riding a brand new KOGA Worldtraveller-S, assembled entirely to his own requirements. During his journey through Namibia, he rides daily distances of 120-130 kilometres. Alee rides the latest version of our world-famous traveller bike.
Thanks to its integrated luggage carrier, among other things, this bike stands out above all for its maximum load capacity of no less than 180kg. It is the strongest KOGA ever made. "I've only just discovered how much stiffer the frame and rear carrier are (than anything I've ever tested)," Alee says about it.
"I loaded 15 litres on it and the bike just rides like normal, even with a super-heavy load." Dive into all the details of the frame as well as the components Alee has put together on his bike in the KOGA Signature range.
The frame
The first thing that catches the eye is, of course, the bright yellow colour. Apart from the fantastic colour, this KOGA Worldtraveller S features a super strong aluminium frame. If you look closely, you will see that the frame is equipped with super smooth welding which means that welding seams are a thing of the past. The special internal cable routing makes this bike unique and sets it apart from all other trekking bikes. An added advantage of this is that all cables are well protected.
The cockpit
The unique "Denham" signature handlebar Alee developed with KOGA combines the best of a drop-bar and a flat-bar. This allows Alee to use five hand positions and fatigued hands are not an issue for him.
A phone charger is integrated into the head tube. The best charger available at the moment. At a speed of just 12 km/h, it already charges and at 17 km/h, he can charge a full power bank in about 7 hours. He attaches his phone with a quadlock system. This keeps it perfectly attached to the handlebars during the ride.
Wheels and tyres
Another thing that sets the WorldTraveller apart is the ability to mount very wide tyres, up to a whopping 72 millimetres wide. This is because we wanted to make a bike that you can handle on any terrain. A large part of Alee's adventures are on unpaved roads, so the right choice of tyres is a must. By the way, Alee cycles with Schwalbe G-One Allround tyres. For those wondering... on paved roads he rides at 4 bar and on off-road terrain at 2 bar.
Drive
For more than 100,000 kilometres it has used the Rohloff 14-speed system. These gears combined with the Gates belt drive is very low-maintenance and super durable. On one belt he does about 30,000 kilometres, which is up to 3 to 4 times longer than he would do with a chain. Even though he does so long on one belt, he always carries a spare belt just to be sure.
Pedals
Alee uses Shimano Deore XT pedals. These are completely cleaned every two years, but they have lasted for hundreds of thousands of kilometres. These click pedals allow him to apply just a bit more power. They also allow him to position his feet better and cover longer distances.
Brakes
These are Shimano Deotre XT hydraulic disc brakes. These are top quality and he has also used them on his travels in recent years. Because the brakes only need to be bleeded once a year, they are also super low-maintenance.
Lighting
The Son lighting works on battery power and at any speed. Even at 5 km/h against the hill, it gives a good beam of light. And because there is a reflection in the light, oncoming traffic is not blinded by this headlight. The rear light is bright and is perfectly integrated into the rear carrier with cables integrated into the frame. As a result, it is optimally protected from all elements.
Carriers
The KOGA WorldTraveller Signatur's rear carrier is integrated into the frame for an extra strong and rigid construction. This is partly why the bike is so extremely loadable. The lowriders on the front fork were specially developed by KOGA for the WorldTraveller and fitted with a stand, so that the bike remains stable. Even when fully loaded with luggage.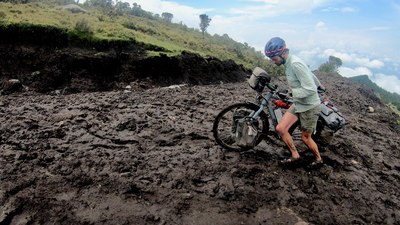 Alee Denham is an Australian cycling enthusiast who discovers the whole world on his KOGA Signature WorldTraveller. From his deep-rooted love for trekking bikes, he started a blog that slowly grew into one of the most respected cycling and travel blogs in the world.
On CyclingAbout.com you can follow his adventures, you can find all kinds of relevant developments in the cycling world and you will find constant updates about new cool products. Fortunately, Alee records all his (off-road) experiences in videos that you can check out on his blog or YouTube channel.
These are the words of Alee Denham himself:
"I believe that time is the most precious commodity in life.
So it should come as no surprise that I've devoted my life to filling my time as richly as possible! My philosophy is simple: When faced with a decision, choose the option that chooses the most learning, sharing, compassion and personal satisfaction.
Admittedly, this blatant optimization has put me - by design - on a very long and uncertain road through life, which is certainly not for everyone. But I must say, this approach has allowed me to lead an undeniably vibrant life, full of surprises along the way.
My name is Alee Denham, I am from Australia and I am 30 years old. I have over 70000 miles of cycling journeys under my belt across four continents. I like writing, educating, filming and sharing my knowledge about how to travel by bike.
I am currently on a three year journey from Argentina to Alaska, seeking out the roads and trails less traveled. I'm not really motivated by the total distance, the average speed, the elevation gain, or even the idea of ​​completing this continental journey. Instead, I am addicted to the adventure, freedom, unpredictability, fragility and variety of cycling trips.
I recognize that I am in an incredibly fortunate position to be able to follow my passion in this way. I somehow won the lottery of life; I was born in a safe and prosperous country, I was educated and a loving and supportive community has always surrounded me. I sometimes feel guilty about the privileged situation I'm in, but in the end I think it's more pragmatic to count my blessings, keep working hard and taking full advantage of this extraordinary opportunity. I consider my happiness a success if I have helped you to add more adventure, nature and risk to your life."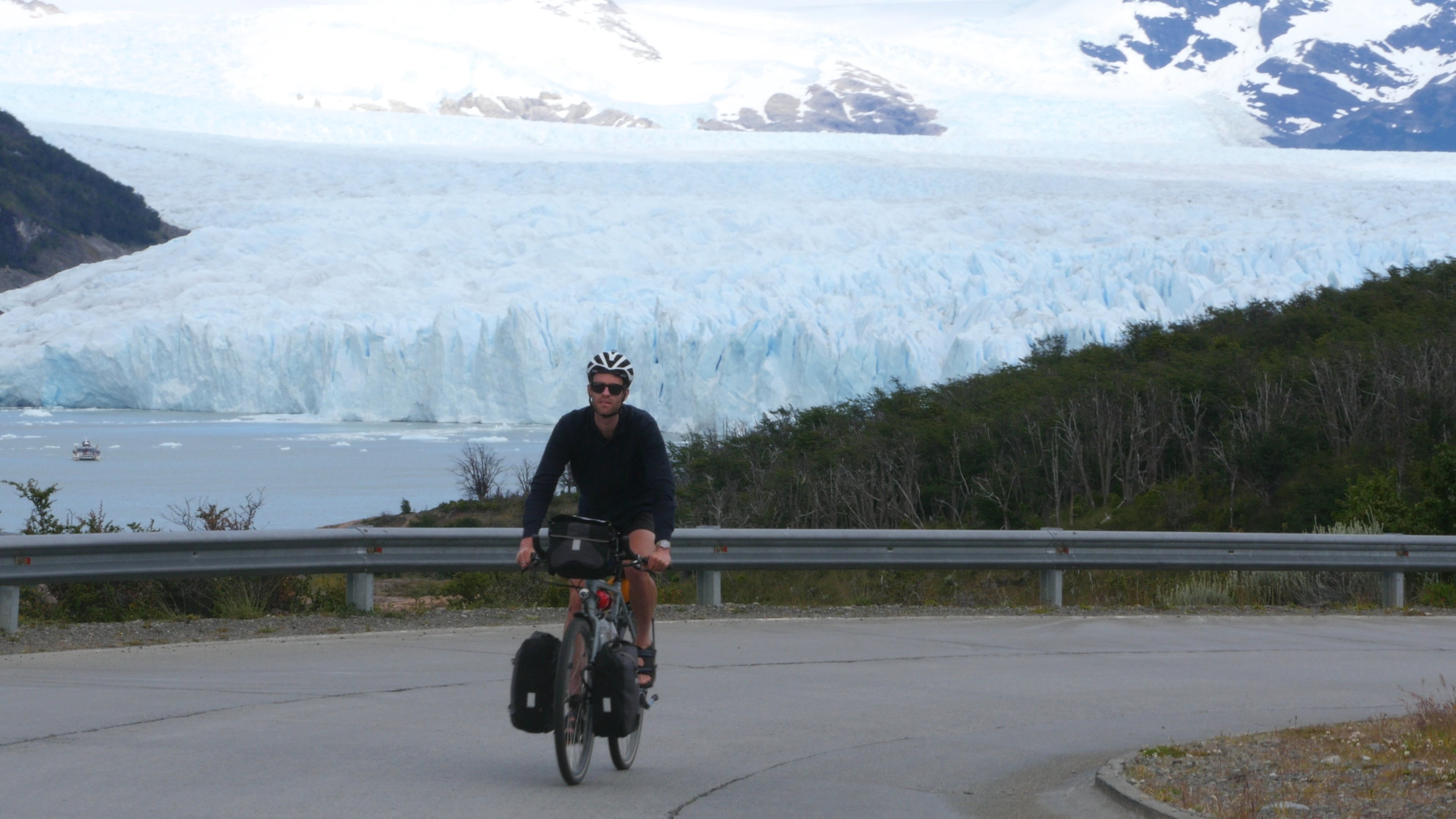 Cycling About is one of the largest cycling travel websites in the world. Cycling and traveling are arguably two of Alee Denham's greatest passions, and Alee Denham is thrilled to share this information.
Once in the CyclingAbout vortex, you'll find yourself absorbing a high dose of cycling content that will inspire you to experience the world the way Alee Denham does. This website is home to the most detailed technical resources on the web, lots of inspiration, in-depth reviews, fun videos, tips, how-tos and more.
The best way to receive updates from Alee Denham is to 'Like' the Facebook page, 'Follow' him on Instagram or 'Subscribe' to his YouTube channel. Alee Denham doesn't use a GPS tracker, but you can get a good idea of ​​where he is from his social media pages - Alee Denham's photos and videos are always taken within a week of posting.
If you learned something here and would like to support Alee's mission to spread the love for cycling trips, it would be much appreciated! You can make a donation to Cyclingabout.com.